ANGLE TILE FOR A LONG-LASTING EDGE.
GOOD-LOOKING – AND EXTRUDED.
---
EVEN ON SMALL AREAS, KERAPLATTE OFFERS PERFECTION AND EASY INSTALLATION.
When designing balconies, architects normally prioritise the facade design requirements over the needs of the residents for straightforward enjoyment. In the search for a low-maintenance and durable balcony floor covering, there is no better alternative than extruded glazed ceramics. Once firmly in place, it shows its full abilities.
Keraplatte offers easy installation for professional laying. It is available in the sizes 30 x 30 cm and 30 x 45 cm, making it easy to handle, easy to cut and easy to install using traditional laying methods. It offers easy installation in the conventional way, to the relevant standard, without any complicated accessories or great amount of effort. Use matching angle tiles – for a perfect edge.
As it is extruded from a moist line of clay and not pressed dry, Keraplatte has breathable capillary channels and a weather-resistant pore structure with a homogeneous particulate structure that promotes drainage. Even the smallest amounts of condensation can escape naturally, without having to force their way through the tile. We call this the membrane effect.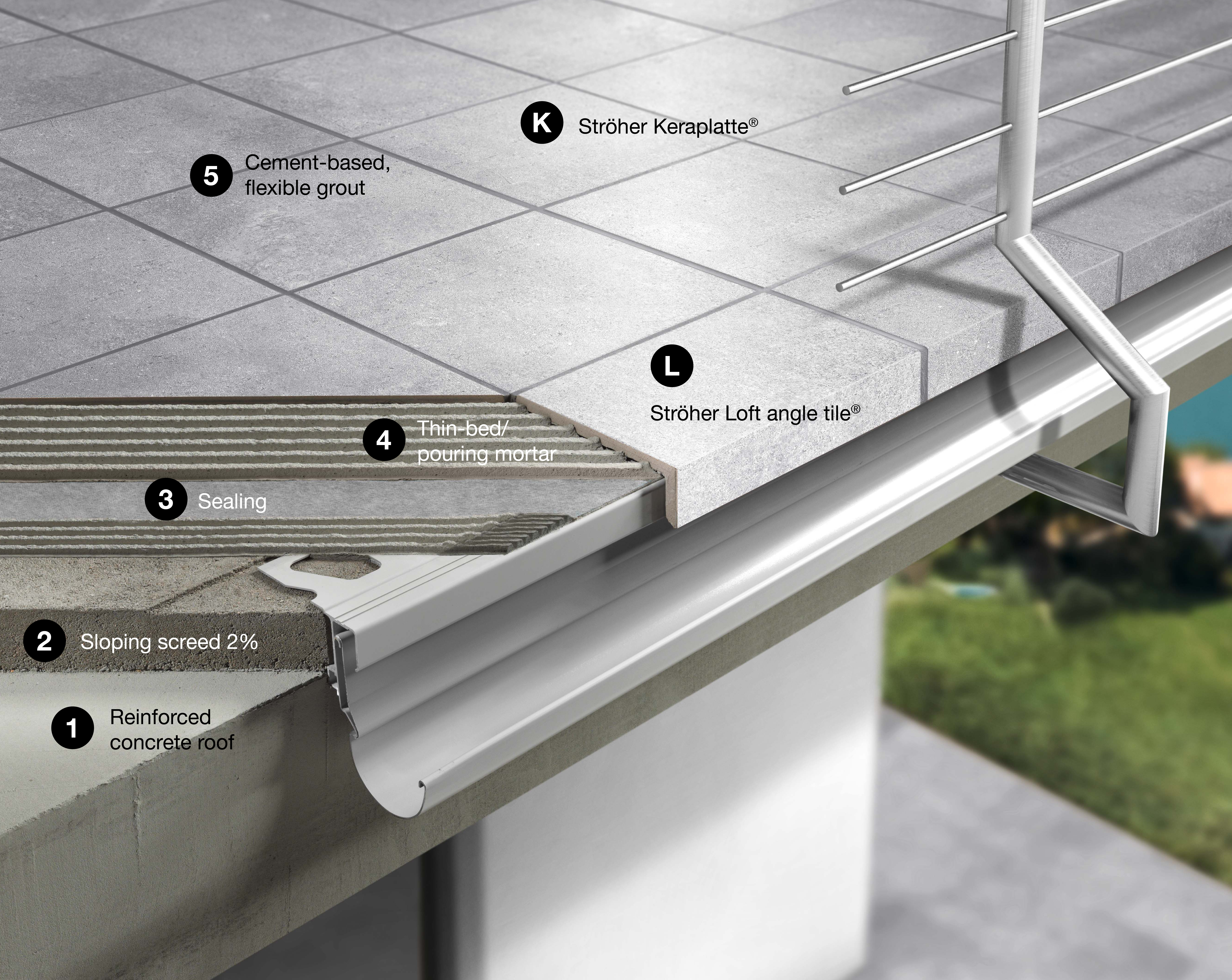 ROOMS WITH A VIEW.
AND VERY DESIRABLE.
---
BALCONIES ARE BOOMING. BECOMING VALUABLE. A VERY POPULAR FEATURE OF PROPERTIES.
A desirable location in seven letters: balcony. From chilling to barbecuing – the joys of the summer can be enjoyed to the full even in a small space. Balconies are booming. In Russia and Austria, the building laws have even been reformed to make it much easier to build or retrospectively install residential balconies.
These areas are usually well protected, so you can enjoy the sun even in winter, and they provide extra space, even if it is only used for the cat litter tray. The flooring should not spoil the fun – it should offer additional benefits. Durable and relaxed. Greasy splashes, red wine stains and flower pot marks are not a problem.
DURABLE. FOR THE LONG TERM.
SIMPLY RELAXING.
---
NO WEEDS. NO MOSS. NO STAINS. NO CHEMICALS. NO FROST DAMAGE. NO LOOSENING.
Fixed installation seems to be more complex than loose laying, but only at first sight. With floor coverings that are not joint-sealed, the trouble becomes clear in the medium term due to the time-consuming maintenance required involving chemicals, gas burners, high-pressure cleaners or lots of elbow grease to scrub the joints clean.
Keraplatte 30 x 30 and 30 x 45 cm also has a special hard glaze on the surface, so there is no need for impregnation, unlike porous surfaces. Dirt can also usually be removed using only water and a mop, which is very environmentally friendly and ecological.
A prestigious résumé and a nice feel underfoot. Even in Roman times, loose laying was considered poor quality. In small spaces or for refurbishments, fixed laying using small tiles is often easier than you think and is permanent. As many balconies indeed become part of history. In Verona, Julia no longer waves at her Romeo, but at the tourists.
---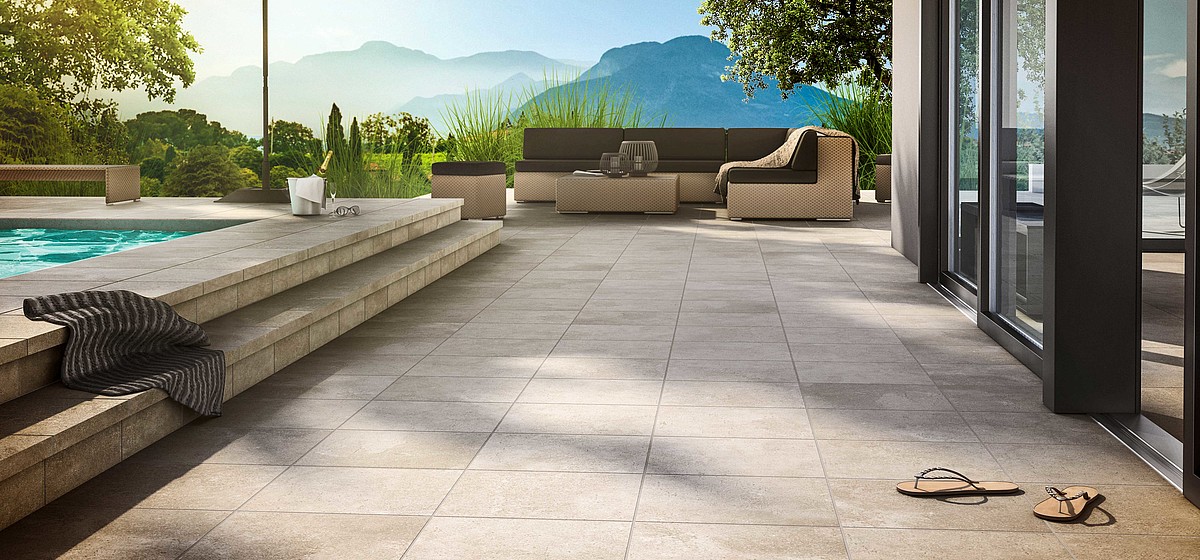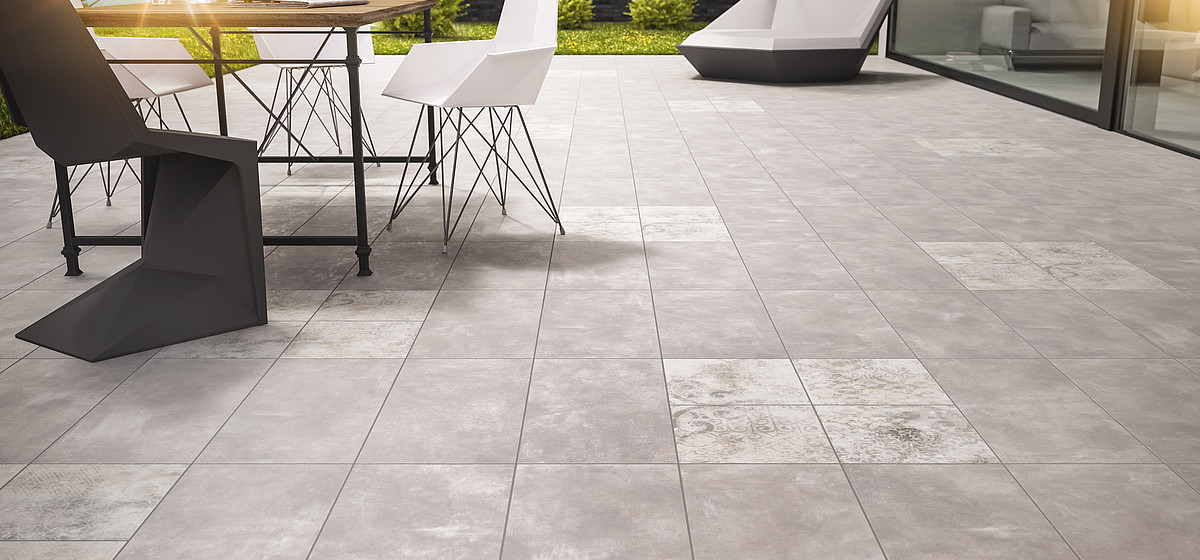 KERAPLATTE 30 x 30 AND 30 x 45 CM:
FOR SMALL AREAS WITH SPECIAL REQUIREMENTS.
---
IDEAL TENSILE ADHESION PROPERTIES
The marked structure of the reverse side that comes from the production process, in which wet clay is extruded to produce coarse ceramics, allows for optimal contact with the substrate and therefore the best possible tensile adhesion. (REM image at 500 x magnification – direct plan view).
GUARANTEED FROST RESISTANCE
Ströher is the only German manufacturer that provides a 25-year guarantee against frost damage, with the KERAPLATTE® extruded products and series (provided they are laid by qualified professionals). More information about Ströher's frost resistance guarantee is available on page 145.
STRÖHER HARDGLAZE 2.0 AND 3.0
The next development in Ströher's hard glaze technology provides better anti-slip safety in wet conditions – still with the same ease of use and cleaning.
FUNCTIONALLY ENHANCED CERAMIC WITH MEMBRANE EFFECT
Thanks to the manufacturing method using extrusion, Ströher ceramics have a 'weatherproof' pore structure involving capillary channels that allow the material to 'breathe' as well as a homogeneous particulate structure that promotes drainage. Even the smallest amount of condensation can escape naturally. We call this the membrane effect.
FROM ANGLE TILE TO STAIR TREAD TILE: COORDINATED COARSE CERAMICS WITH AN INNOVATIVE SPIRIT AND MARKET LEADER CONVENIENCE.
A variety of trim pieces, frost resistance and fully decorated edges. Perfect usability from a single supplier for surfaces, stairs and edge closures. From the classic split tile through large formats and up to innovative balcony edge closures. Creating edges using sophisticated ceramic solutions. The new generation of Florentine style. Contemporary, reduced straight-edged design: loft stair tread tile® and loft angle tile®. The original.