TERRA
FROST RESISTANT. ANTI-SLIP. ORIGINAL.
---
CLASSIC, UNIQUE TUNNEL KILN PRODUCT. COLURED THROUGH, SINTERED THROUGH, DURABLE. AND EASY TO CLEAN.
The warm earth tones and unglazed surface give the floor an unadulterated, natural look. Terra is ceramic in its original, perhaps even primeval form.
No glaze is needed to achieve this intense colouring and the striking variations in tone. This is where the distinctively intense colours come about quite naturally through the special tunnel kiln firing. And the result is coloured right through and also durable.
TERRA
FORMATS
---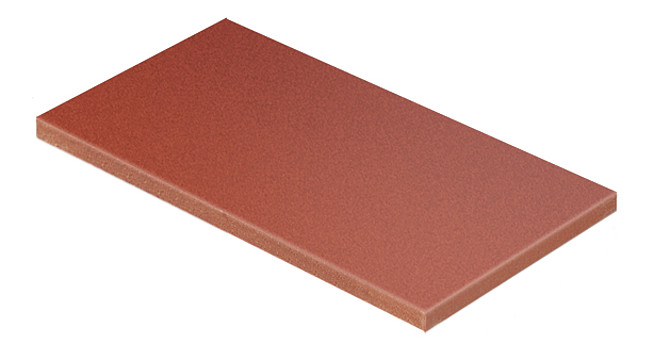 split tile
Format no.: 95103-004
format: 12,5 x 25
dimensions: 240 x 115 x 10 mm
slip resistance: R 11/B
Abrasion: -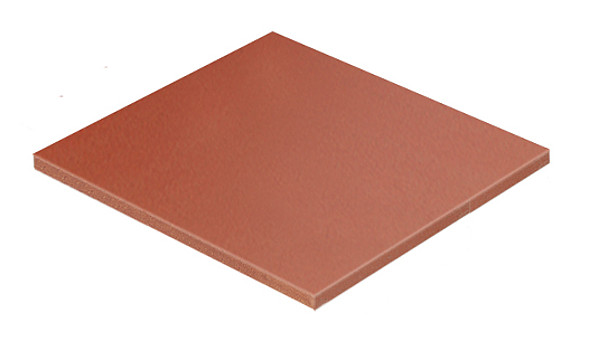 split tile
Format no.: 95103-008
format: 25 x 25
dimensions: 240 x 240 x 12 mm
slip resistance: R 11/B
Abrasion: -
TERRA
FORMATS
---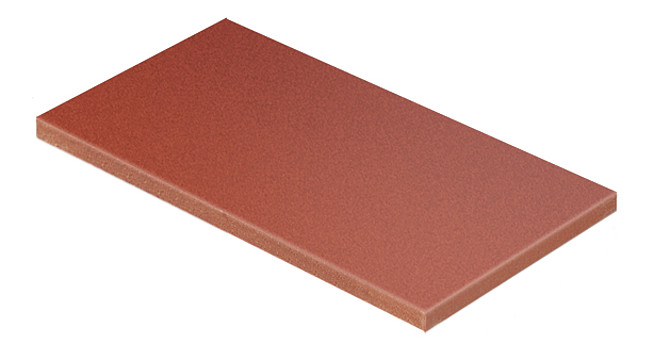 split tile
Format no.: 95103-004
format: 12,5 x 25
dimensions: 240 x 115 x 10 mm
slip resistance: R 11/B
Abrasion: -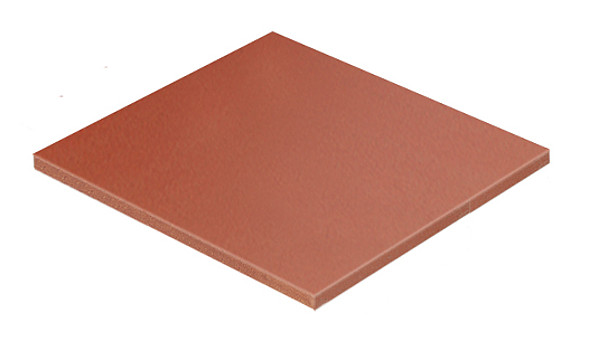 split tile
Format no.: 95103-008
format: 25 x 25
dimensions: 240 x 240 x 12 mm
slip resistance: R 11/B
Abrasion: -
Terra
trim pieces
---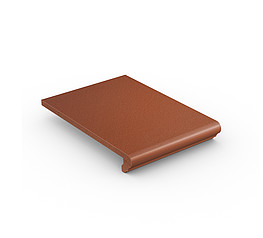 stair tread tile
dimensions: 240 x 340 x 12 mm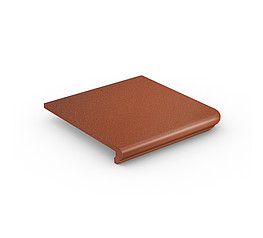 stair tread corner
dimensions: 345 x 345 x 12 mm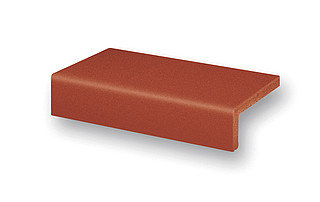 angle tile
dimensions: 240 x 115 x 52 x 10 mm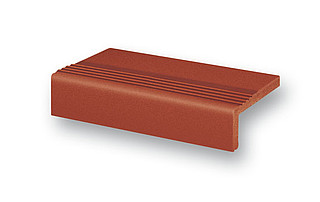 angle tile with grooves
dimensions: 240 x 115 x 52 x 10 mm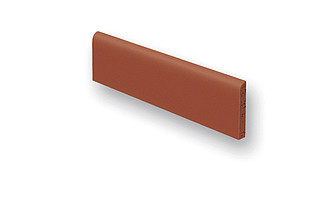 skirting
dimensions: 240 x 73 x 10 mm
riser corner
dimensions: 157 x 60 x 60 x 11 mm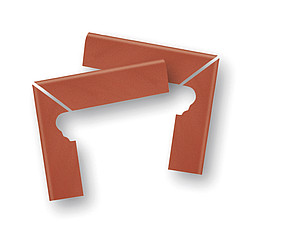 stair skirting left
dimensions: 294 x 73 x 10 mm
product details
technical specifications, downloads
---
Format no.

Description

1100

split tile

1610

split tile

4822

angle tile

4824

angle tile with grooves

9240

stair tread tile

9331

stair tread corner

9000

riser corner

9005

stair skirting left

9006

stair skirting right

2116

skirting

9310

stair tread tile

9320

stair tread tile

4828

angle tile bulging edge

4000

cove base

4004

cove base internal corner

4005

cove base external corner

Product size (cm)
##hidedata##
##hidedata##
##hidedata##
##hidedata##
##hidedata##
##hidedata##
-
-
-
##hidedata##
##hidedata##
##hidedata##
##hidedata##
##hidedata##
-
-
Production size (mm)
##hidedata##
##hidedata##
##hidedata##
##hidedata##
##hidedata##
##hidedata##
##hidedata##
##hidedata##
##hidedata##
##hidedata##
##hidedata##
##hidedata##
##hidedata##
##hidedata##
##hidedata##
##hidedata##
pieces per bundle
##hidedata##
##hidedata##
##hidedata##
##hidedata##
##hidedata##
##hidedata##
##hidedata##
##hidedata##
##hidedata##
##hidedata##
##hidedata##
##hidedata##
##hidedata##
##hidedata##
##hidedata##
##hidedata##
pieces per m2/rm incl. joint
##hidedata##
##hidedata##
##hidedata##
##hidedata##
##hidedata##
-
-
-
-
##hidedata##
##hidedata##
##hidedata##
##hidedata##
##hidedata##
-
-
pieces per pallet
##hidedata##
##hidedata##
##hidedata##
##hidedata##
##hidedata##
##hidedata##
-
-
-
##hidedata##
##hidedata##
##hidedata##
##hidedata##
##hidedata##
##hidedata##
##hidedata##
m2/rm per bundle
##hidedata##
##hidedata##
##hidedata##
##hidedata##
##hidedata##
-
-
-
-
##hidedata##
##hidedata##
##hidedata##
##hidedata##
##hidedata##
-
-
m2/rm per pallet
##hidedata##
##hidedata##
##hidedata##
##hidedata##
##hidedata##
-
-
-
-
##hidedata##
##hidedata##
##hidedata##
##hidedata##
##hidedata##
-
-
bundles per pallet
##hidedata##
##hidedata##
##hidedata##
##hidedata##
##hidedata##
##hidedata##
-
-
-
##hidedata##
##hidedata##
##hidedata##
##hidedata##
##hidedata##
##hidedata##
##hidedata##
kg per pallet
##hidedata##
##hidedata##
##hidedata##
##hidedata##
##hidedata##
-
-
-
-
##hidedata##
##hidedata##
##hidedata##
##hidedata##
##hidedata##
##hidedata##
##hidedata##
kg per piece
##hidedata##
##hidedata##
##hidedata##
##hidedata##
##hidedata##
##hidedata##
##hidedata##
##hidedata##
##hidedata##
##hidedata##
##hidedata##
##hidedata##
##hidedata##
##hidedata##
##hidedata##
##hidedata##
kg per m2/rm
##hidedata##
##hidedata##
##hidedata##
##hidedata##
##hidedata##
-
-
-
-
##hidedata##
##hidedata##
##hidedata##
##hidedata##
##hidedata##
-
-
kg per bundle
##hidedata##
##hidedata##
##hidedata##
##hidedata##
##hidedata##
##hidedata##
##hidedata##
##hidedata##
##hidedata##
##hidedata##
##hidedata##
##hidedata##
##hidedata##
##hidedata##
##hidedata##
##hidedata##
slip resistance
##hidedata##
##hidedata##
##hidedata##
##hidedata##
##hidedata##
##hidedata##
-
-
-
-
##hidedata##
##hidedata##
##hidedata##
-
-
-
| | |
| --- | --- |
| DIN EN 14411 | |
| COLOURS: | 307 wheat, 316 patrician red flashed, 215 patrician red |
| FORMATS: | 1100, 1610, 9310, 9320 |
| | |
| --- | --- |
| Bending strength (Average value) (EN ISO 10545-4) | Ø 28 N/mm2 |
| Water absorption (Average value) (EN ISO 10545-3) | ≤ 3 %, 307 wheat |
| Scratch hardness of surface (Mohs scale) (minimum individual value) (EN 101) | 6–7 |
| Frost resistance (EN ISO 10545-12) | is fulfilled |
| Resistance of surface abrasion for glazed tiles (EN ISO 10545-6) | ≤ 275 mm3 |
| Chemical resistance – except to hydrofluoric acid and its compounds – of tiles (EN ISO 10545-13) | is fulfilled |
| Thermal shock resistance (EN ISO 10545-9) | is fulfilled |
| Coefficient of thermal expansion from room temperatur (20° C) to 100° C/CE (EN ISO 10545-8) | < 80x10-7K-1 |
| Classification groups for antislip floor claddings in barefoot areas (DIN 51 097) | Group: B |
| Classification groups for industrial floor claddings with an inerteased risk of slipping (safety procedure) (DIN 51 130) | Group: R11 |